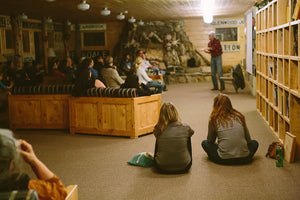 White Earth Land Recovery Project's 14th Annual Indigenous Farming Conference
We are proud to share this upcoming event on March 2nd - 5th, 2017 at the Maplelag Resort in Callaway, Minnesota.
White Earth Land Recovery Project will host the 14th Annual Great Lakes Indigenous Farming Conference.

(photos Copyright Crystalliepapphotography 2016)
This year's Great Lakes Indigenous Farming conference will feature the topics:
The Inherent Rights of Plants, Stories of Maize, Food Storage and Preservation, Ceremony in Indigenous Agriculture, Wild Foods, The Indigenous Identity of Food, and much more! There will be Native vendors, youth sessions, skiing, and delicious meals featuring healthy foods prepared by Native chefs.  
Attendees will have the opportunity to participate in group discussions, as well as a panel discussion about the Spiritual and Historical Significance and Importance of Seed in Tradition, featuring Rowen White and Terrylynn Brant. There will be craft room activities for youth and adults, and a seed swap. Each year at the seed swap, participants receive a good variety of heirloom and heritage seeds. Spend some time skiing on some of the best cross country skiing trails in Minnesota! Ski rentals are only 10.00. Registration for the 14th Annual Great Lakes Indigenous Farming Conference is now open. Please visit http://welrp.org/14th-indigenous-farming-conference to register and download the agenda. Come check out Native Harvest's booth at the Indigenous Farming Conference! 
Last year's Indigenous Farming Conference was a huge success. We had the largest turnout ever, with over 250 attendees. Some of the featured presenters from last year's conference will return this year. White Earth Land Recovery Project's Zachary Paige shared the following descriptions of some featured presenters on WELRP's website:
Rowen White is a Seed Keeper from the Mohawk community of Akwesasne and a passionate activist for seed sovereignty. She is the director and founder of the Sierra Seeds, an innovative organic seed cooperative focusing on local seed production and education, based in Nevada City CA. She teaches creative seed training immersions around the country within tribal and small farming communities. She weaves stories of seeds, food, culture and sacred Earth stewardship on her blog, Seed Songs. Follow her seed journeys at www.sierraseeds.org
Chef Sean Sherman, Oglala Lakota, born in Pine Ridge, SD, has been cooking in MN, SD & MT for the last 27 years.  In the last few years, his main culinary focus has been on the revitalizing indigenous foods systems in a modern culinary context.  Sean has studied on his own extensively to determine the foundations of these food systems which include the knowledge of Native American farming techniques, wild food usage and harvesting, land stewardship, salt and sugar making, hunting and fishing, food preservation, Native American migrational histories, elemental cooking techniques, and Native culture and history in general to gain a full understanding of bringing back a sense of Native American cuisine to today's world.
Tezozomoc is a community leader in South Central Los Angeles, as well as among agricultural workers displaced by modernization. He was a leader in the fight to save "The Garden", the largest urban farm in the country. Following the bulldozing of The Garden, Tezozomoc organized a nonprofit organization (South Central Farmers Health and Education Fund) devoted to cooperative development for low-income, immigrant and refugee farmers. Tezozomoc is a member of the board of Acequia Institute, a nonprofit organization dedicated to preserving biodiversity by saving indigenous plants and seeds, and a member of The Corn Collaborative, which organizes indigenous people around the sacred plant, Zea Mays.  Tezozomoc is fond of saying, "In the politics of impossibility, sometimes you win by losing. . .We won by losing, and we continue to win, planting hope along the way."
We hope to see you at the Great Lakes Indigenous Farming Conference this year!
(Photos Copyright Crystalliepapphotography 2016)
------------------------------------------------------
"For an in-depth look at a previous White Earth Land Recovery Project's Indigenous Farming Conference, click here:
https://gardenwarriorsgoodseeds.com/2015/03/12/12th-annual-indigenous-farming-conference-white-earth-reservation-mn/
---